FCI-protected kennel since 1980
ÖKV quality mark since 1997
My bitches are whelping in their whelping box in a familiar surrounding in my living area.
Mummy and her puppies are free to go into the sunny garden at any time or to a shadow place at the terrace.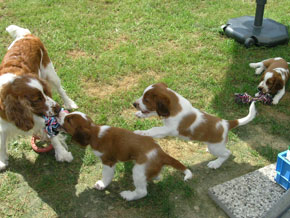 Bringing up the puppies follows a special rule:
This suites well to Mummy and provides solid security and welfare of the puppies. It is important to work with and for the puppy's intelligence, physical fitness and promotes socialization.
The multiple daily cuddle is as important as games and learning about various environmental influences.